Are you ready to really stand out as a coach?
Going Beyond Models
Come out of your ICF Certification at the top of your game with a certification in one hand and executive techniques that work in the real world in the other.
You're going for your ICF Certification so that you can stand out in a busy market of coaches. You're looking for the credibility of the ICF and you're ready to put in the work to make it happen.
But simply adding the frameworks to your coaching toolbox isn't going to be enough. It's how you apply them that will truly set you apart.
 Getting your coaching certification is proof that you are interested in best practices rather than just meeting the minimum standards.
Together, let's get you the models and learn how to take your clients beyond them at the same time
Introducing your ticket to high quality, steady clients:
GOING BEYOND MODELS MENTOR COACHING PROGRAM
A group program that, together with the support of other ICF candidates that know exactly what you're going through, will give you a:

  Deeper understanding of the Coaching Core Competencies & ethics

  Insight into the "new" 2021 Core Competencies

  Training material package with different readings, cases and information regarding the Coach Knowledge Assessment (CKA)

  Opportunities to look at the Core Competencies through the lens of culture and diversity

  Ample space to discuss cultural issues that (might) affect your coaching across your client roster

  Safe environment to practice your coaching skills and get honest and constructive feedb

  Different optics on your coaching shared by the participants
Who is this for?
---
Coaches looking for mentoring toward achieving a credential, continuing education units and guidance through the credentialing application and in need of renewal.
"I enjoyed the live coaching sessions and recordings. Seeing oneself in action reveals a lot of opportunities for improvement within your coaching style and more profound exploration within the coaching session."
Innocent Obwino
But who am I to be your mentor?
---
Hi, I'm Edmée! I'm the owner of aNDE Leadership Solutions on Demand, an ICF certified coach and certified mentor, and I work with coaches ready to dominate their space in the coaching industry by using their ICF Certification.
Here at aNDE, we believe going beyond models is important. But, first you need to know the rules to break them. First you need to know the models and have the frameworks to be able to use them in their most effective and authentic ways with your future clients.
In fact, I've helped over 150 coaches just like you actually get their ICF certification.
So what are you waiting for? Join the Waitlist today (no commitment) to be the first to know when the Going Beyond Models mentor program is open for enrollment.
"What I realised is that I had many pieces but had never really put them together. The mentor calls have made me see and complete the puzzle! "
Galina Bunkova
Why our mentor coaching Going Beyond Models Program will set you apart from the rest.
The aNDE mentor coaching Going Beyond the Models program takes you from feeling overwhelmed by the ICF requirements and administration to being fully prepared to take the ICF certification exam with confidence, foster a natural ease with the coach core competencies and expand your own coaching style.
Go from overwhelm and procrastination to sharpened skills & confidence in three steps. 
SCANwhere you are now, what you have and need, get organised and create the steps you need to get the administrative requirements ready . 
FORGEthe skills you have, renew your knowledge on coaching ethics, actualise your knowledge on the ICF core competencies – including the revised ones to be introduced in 2021`and explore how culture impacts your coaching sessions. 
STRENGHTHEN your coaching skills by sharpening your strengths and embrace your blind spots and become a masterful coach.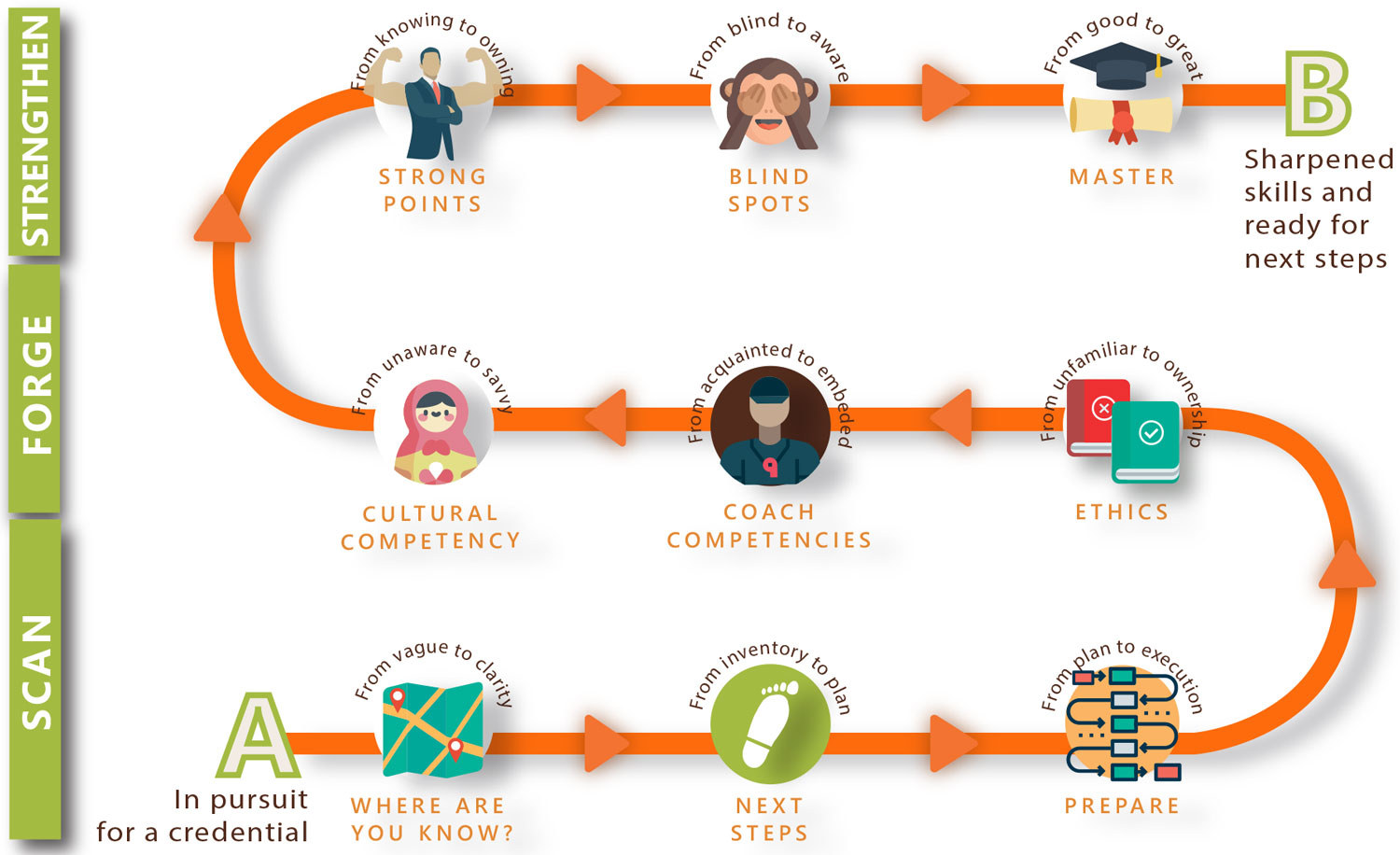 You need your hours. Clock them with aNDE Coaching and come out stronger than the competition, with practical resources and a bigger picture mindset so that you can master the Coaching industry and serve your clients better than the rest.
Apply Today for this Exclusive Opportunity
To ensure the most effective results for you and your future clients, we keep the group classes limited to ICF candidates that are the best fit. The mentor program is for 4 to max 6 participants.
Apply today and be notified if your application is accepted when enrollment begins. (Inquire about next start date)
"Edmée is dedicated, culture-savvy, passionate, open-minded, professional and extremely knowledgeable. I particularly appreciated her unique quality of relating culture to coaching. This program teaches you more than the ICF core competencies. It helps you to improve your coaching skills and achieve excellence in coaching."
Magaly Toussaint
"The program is more than just 'doing' the core competencies; it is about where you would like to go as a coach, what is the next step you would like to take. The small group made the meetings personal, giving everyone enough room for improving our coaching skills."
Henriëtte Wentholt, PCC