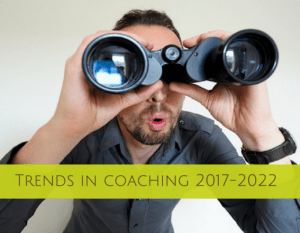 Coaching ya no es una "palabra sucia" y no es sólo se usar en los deportes. Hoy en día la gente no se avergüenza de decir que están trabajando con un coach. Por el contrario, los coaches están siendo ostentados en las salas de juntas, los puestos de trabajo están pidiendo coaching, los empresarios no tienen éxito si no están trabajando con un coach.
Pero, en realidad, ¿qué es el coaching y cuáles son los beneficios de trabajar con un coach?
Coaching es una profesión que tiene como objetivo apoyar a la gente en el lograr metas, trabajar en el desarrollo personal y mejorar el rendimiento, pero también es beneficioso para obtener claridad de la mente y tomar las decisiones correctas (aunque sean difíciles).
Al revisar un artículo, que  escribí hace un tiempo atrás sobre las tendencias en el coaching me di cuenta que las tendencias dentro del coaching no han cambiado mucho – Trends in coaching that are turning the profession around. El artículo fue escrito con coaches en mente. La "actualización" de hoy expande sobre las ideas del primer artículo. Lo que está sucediendo es que el coaching será más aceptada tanto como para uso personal y como una herramienta de desarrollo de liderazgo.
Aumento del desempleo, excepto profesionales de alta tecnologíaLos trabajos de alta tecnología serán difíciles de llenar, mientras que el desempleo dentro de otro tipos de empleo será alto. Esto incluye menos coaches profesionales, experimentados y conocedores que abandonarán ·
 Conflicto sobre el trabajo entre "baby-boomers" y "milenarios"Mientras que los baby-boomers están envejeciendo y se espera que trabajen más años, los milenios se hará cargo de la fuerza de trabajo. Experiencia versus nuevas ideas. El coaching se usará para resolver conflictos y entrenar nuevos líderes ·
El coaching será más aceptadoSe espera que los gerentes, líderes, maestros, cuidadores tengan habilidades de coaching ·
Los coaches se entrenaran primordialmente en las universidades Los coaches tendrán un título universitario, pocas escuelas de coaching sobrevivirán como profesionales y el precio de coaching se disparará ·
Coaching y capacitación se efectuara mediante sistemas onlineCada vez se impartirá menos formación de coaching en las clases. Webinars y el coaching en onlínea será la norma. También las sesiones de coaching serán más cortas (un par de minutos) con el objetivo de abordar temas específicos ·
La investigación científica sobre el coaching aumentaráEl coaching estará basado sobre estudios y  demostrando sobre una base científica. Habrá más dinero y recursos disponibles para estos estudios. ·
Regulación del coachingCoaching será ampliamente aceptado como una profesión con sus propios códigos de ética y requisitos. El coaching será regulado por los sistemas de educación / gobiernos / organizaciones profesionales. La intención es detener el crecimiento de de coaches no formados y llevar la calidad a un nivel más alto